There are many ways to utilize Product Widgets. Add to your homepage, blog posts, or share in your newsletter!
Here's an example of blog post widgets:

Image via In a Fashion Mood
Here's an example of a widget on mobile web:
Note that mobile widgets offers a different experience for your audience!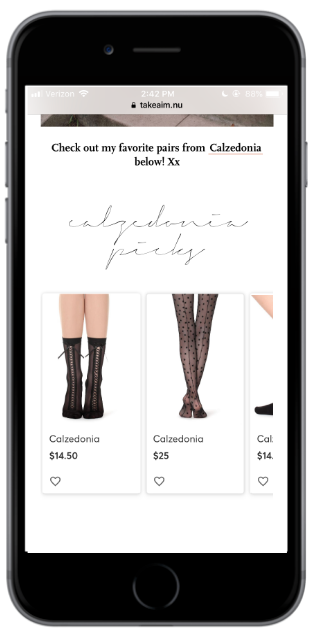 Image via Take Aim
How-to Guide
1. Start by adding products

Add items using the search bar and filters or items from your

lists

You can toggle between these options at any time!

Use filters to narrow your search!
Use the right-hand side drop-down to sort by different variables

Hover over the item to add it to your widget
You can also save products to lists along the way. This allows you to store items for other widgets or Looks as you go!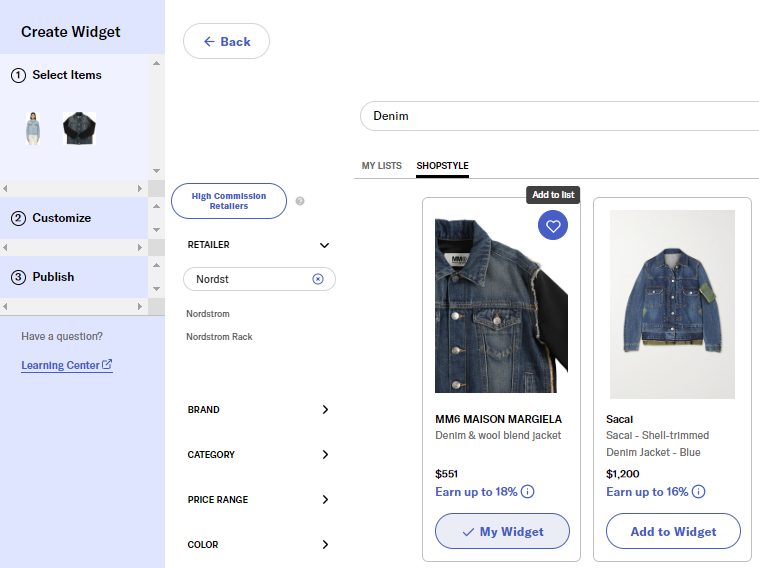 Use the left-hand product details to remove an item. Simply hover over it and click on the x
When you have all your product selected, click Next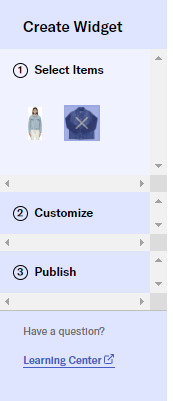 Add relevant information to the product cells. Name your widget for internal organization
Choose what information to display
Find out more about caption creation

here

Favorites allow your followers to save items to shop now or later and be notified of any price drops. Learn more about Favorites

here

!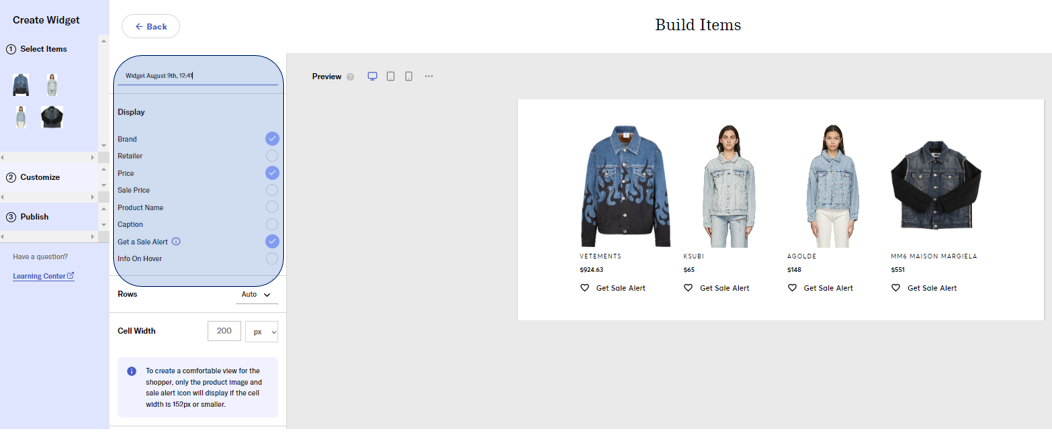 Preview your widget across devices!

Pro tip:

Know the container size that you're embedding your widgets into and enter it into the preview field!

Note that this is to preview the widget only. To make any edits, utilize the pixel or percentage editor in the lower-left corner. Learn more

here!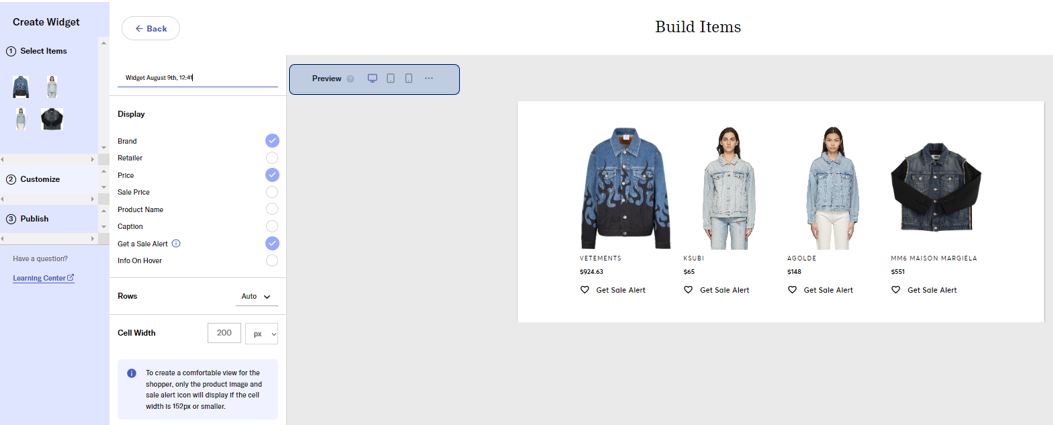 Adjust Cell Width and rows. Select the rows and columns & Product Cell Width
Learn more about creating the widget rows and columns you want

here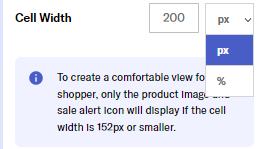 Click Reorder & Change Images to drag and drop to rearrange the products

Hover over a product to see if alternate images are available. Click Change Image > select the image > click Save
Click update when you're ready for the next step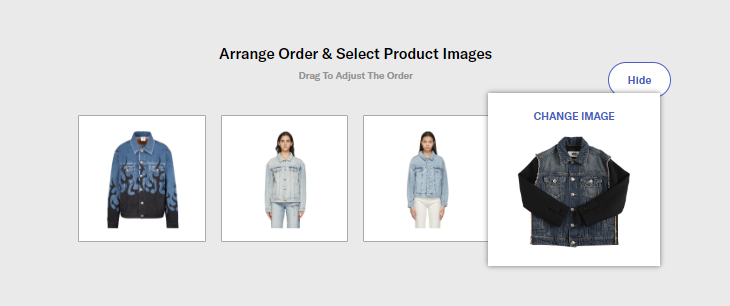 Embed the widget on your blog and/or link to it directly! You can share this link to your social posts

Click Copy Embed Code to select the code in its entirety. To embed it, paste all the code into the HTML slot of your blog post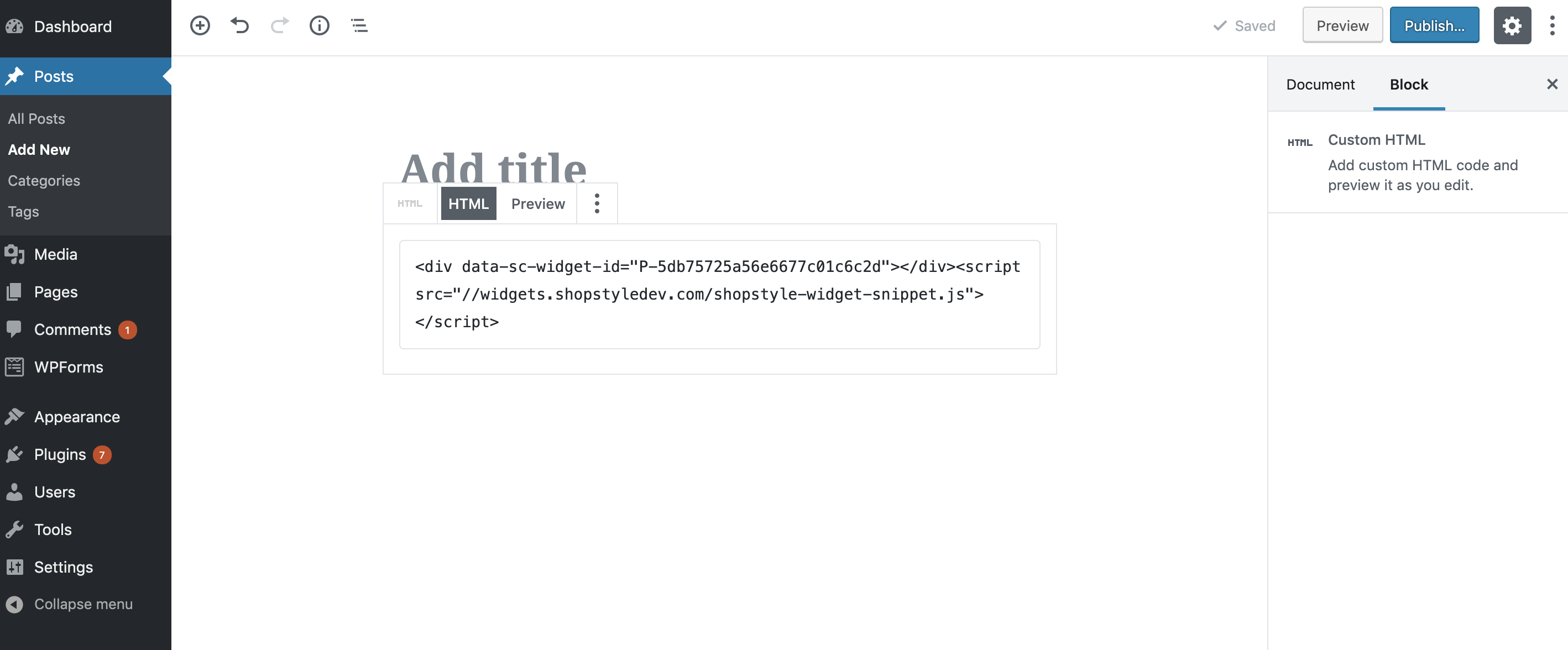 To share a link that directs straight to your Product Widget (can be shared on social platforms)
View more

here

!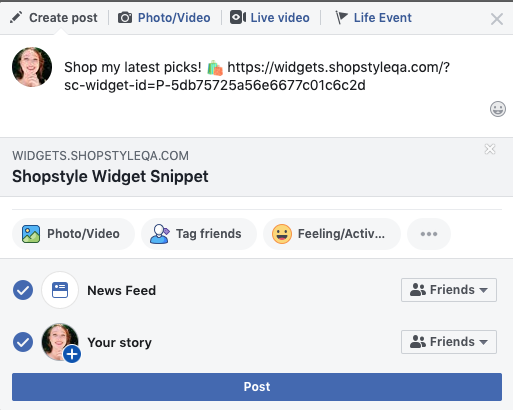 Enjoy the finished product!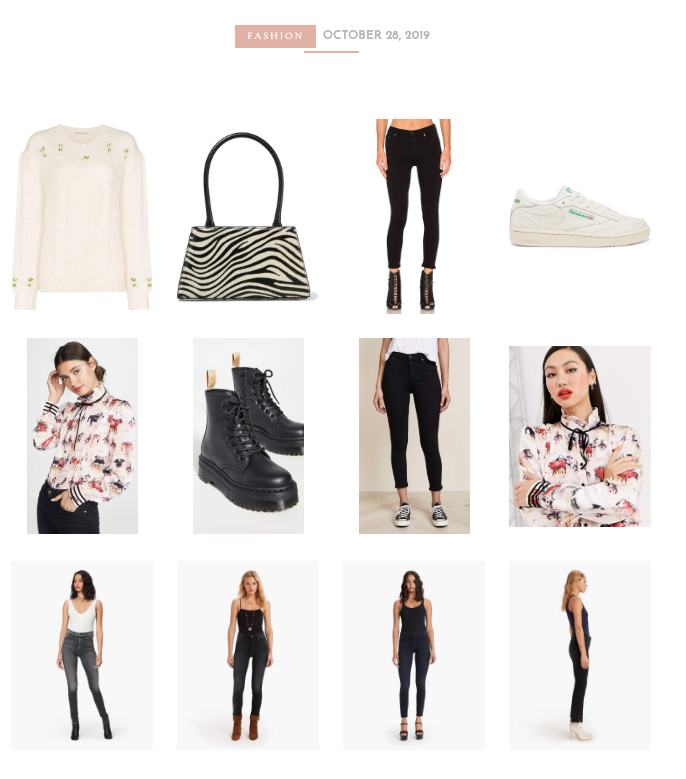 Note: Any edits made to your widget will take 10-15 minutes to update, but no need to re-embed your widget in the meantime. It will auto-update!
Interested in the Get a Sale Alert option? Find out more about Favorites on Product Widgets here!
Quick facts:
Widgets automatically update with your edits!

If you make any edits, you will not need to

re-embed

the code. Refresh the page and you'll see the updates appear.

To bookmark widgets that you use often, click the star next to the widget name. You'll see a list of Starred widgets on the top of your Saved Widgets list.
For international creators:
If you wish to access a product feed that will display your items in widgets as EUR please select the option for UK retailers with EUR pricing
If you wish to display your items in

GBP, please select UK with GBP pricing

To do this, click Retailer Country in your Account Settings and select the option in the product catalog drop-down
Find out more

here
Pro tip: Learn how to utilize Lists to build Product Widgets here!